Scenic Nevada Alert:
100-foot cell phone tower planned in Washoe Valley view shed
County will hold a hearing on Verizon's application to build the cell phone tower and adjoining maintenance building
When: Thursday, April 3 at 1:30 p.m.
Where: County Commission Chambers, building A, 1001 E. Ninth St., Reno
Members of the Washoe Valley Alliance are opposing the application to erect a tower, disguised as a windmill, near a ridgeline in an open area with pristine views of the Sierras.
The Alliance says it will ruin the views and degrade the rural character of the area they've fought to protect since residents joined forces over seven years ago to help create a master plan for the area.
Verizon Wireless is applying for a Special Use permit to build the tower on land they will lease near the back of the Washoe Valley Storage parcel, 205 U.S. Highway 395. The Alliance wants the county's Board of Adjustment to deny the request.
If approved, the 100-foot cell phone tower and adjoining maintenance building could become part of the Washoe Valley view shed. The proposed location is in an open area, set back 1,016 feet from old Highway 395.
Washoe Valley Storage is located on the valley's west side between old U.S. 395 and the recently built Interstate 580. This section of U.S. 395 recently was proposed to be added to the existing Washoe Valley Scenic Byway. Creation of the Scenic Byway was a cooperative effort of the Washoe Valley Alliance, Washoe County Parks and Scenic Nevada.
Verizon's permit application calls for the tower to be disguised as a 100-foot windmill. There is no vegetation or other structures to shield the tower from view.
Alliance members say the tower's lattice work design isn't in compliance with the South Valley's Master plan. Neither are silhouettes on ridgelines caused by development like the tower. Ridgelines with protected skylines are those viewed from any scenic corridor, including U.S. 395.
Scenic Nevada advocates for the sensitive placement of cell phone towers as well as camouflaging or co-locating towers to protect scenic views. Neither the proposed placement nor the windmill design protects the scenic views in this case.
For more information on cell phone towers visit the Scenic America website.
For more information on the Alliance, visit their website, washoevalleyalliance.org, or email them atwashoevalleyalliance@gmail.com.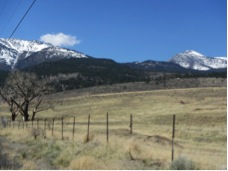 The View Looking West in Washoe Valley Along Old Hwy 395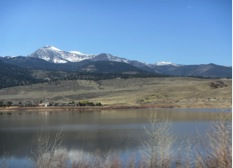 View Looking West from Washoe State Park